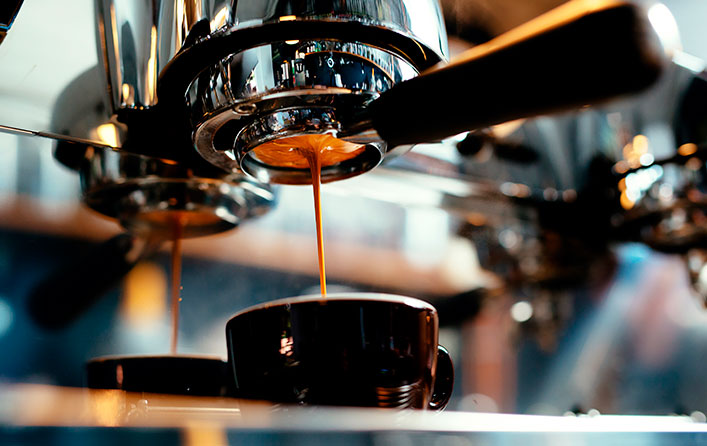 The bartender's equipment
Coffee maker, coffee grinder, barley machine and other equipment available on loan for use
A professional equipment to make excellent coffee is essential for the bartender. To satisfy this need, Haiti Coffee Corporation provides its customers with the best equipment available. Before installation, we make site inspections to see the necessary dimensions and evaluate together with our customers the equipment set for the best coffees products.
Espresso coffee maker
An espresso coffee maker should always allow the bartender to serve a great cup of coffee both in heany and light woarkload conditions. This is precisely one of the key factors which make the choice of the most appropriate machinery fundamental. Besides being technically professional, the coffee maker must have an excellent aesthetics in line with the style of the bar. Haiti Coffee Corporation relies for roasting coffee makers on loan to use available from the best brands on the market: Faema, Rancilio, Cimbali etc.
Coffee grinder
The importance of the coffee grinder is often underestimated by the bartender but coffee grinding is just as important as the coffee itself. There are grinders with different voltage (220V, 380V) and typology: with flat grindstones that are cheaper and more reliable for a 4/5 kg workload per day, and coffee grinders with Koniche grindstone, more expensive but without overheating problems.
Barley Ginseng Coffee maker
The barley ginseng coffee maker has become a necessary machine for bars. Haiti Coffee Corporation also recommends other products such coffee nut cream, guarana coffee, etc.
For this type of equipment we distribute Brass products.
Other equipment for the Bartender
In order to provide the best assistance as possible, we suggest our customers the right way to use other bar equipment: water softeners, bar signs, professional dishwashers ice makers, etc.